Transportation
---
Ariport Shuttle Service for Kellogg Hotel & Conference Center
If you've reserved a room at Kellogg Hotel & Conference Center, the hotel has free shuttle service to pick you up at Lansing Capital City Airport. Please call the toll free number at 1-800-875-5090 (or 1-517-432-4000)to provide your flight information. The guest services representatives will be happy to assist you.
---
Gound Transportation in LAN airport
Whether you're looking for a bus, taxi, limo or rental car, you'll find them right here at affordable rates. Courtesy phones for ground transportation are located in the baggage claim area.
$1.25 Adults
60¢ Students (students 13 and older must show a valid CATA or college student ID)
60¢ Seniors (62+) and persons with disabilities (with valid CATA Club, ADA, or Medicare Card.
Children under 42" ride FREE
CATA's customer service representatives are available to assist you with trip planning and route information. Call 517-394-1000.
Monday-Friday 7:00 a.m.-7:00 p.m.
Weekends 9:00 a.m.-5:00 p.m.
For additional bus service information, visit www.cata.org .
Spartan Cab/Yellow Cab
517-482-1444
The Cosmos Team
517-367-1229
Country Club Taxi
517-323-9070
DD's Downtown Taxi
517-252-4498
FAMA Cab, LLC
517-898-0431
iCab, Inc.
517-215-7910
Royal Express
517-489-9717
S-Cabs
517-374-5500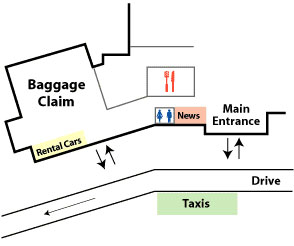 Rental car agencies have a check-in desk located in the baggage claim area.

Rental Agencies Available:

For all agencies, rental car ready-and-return spaces are located within walking distance of the terminal building.



---